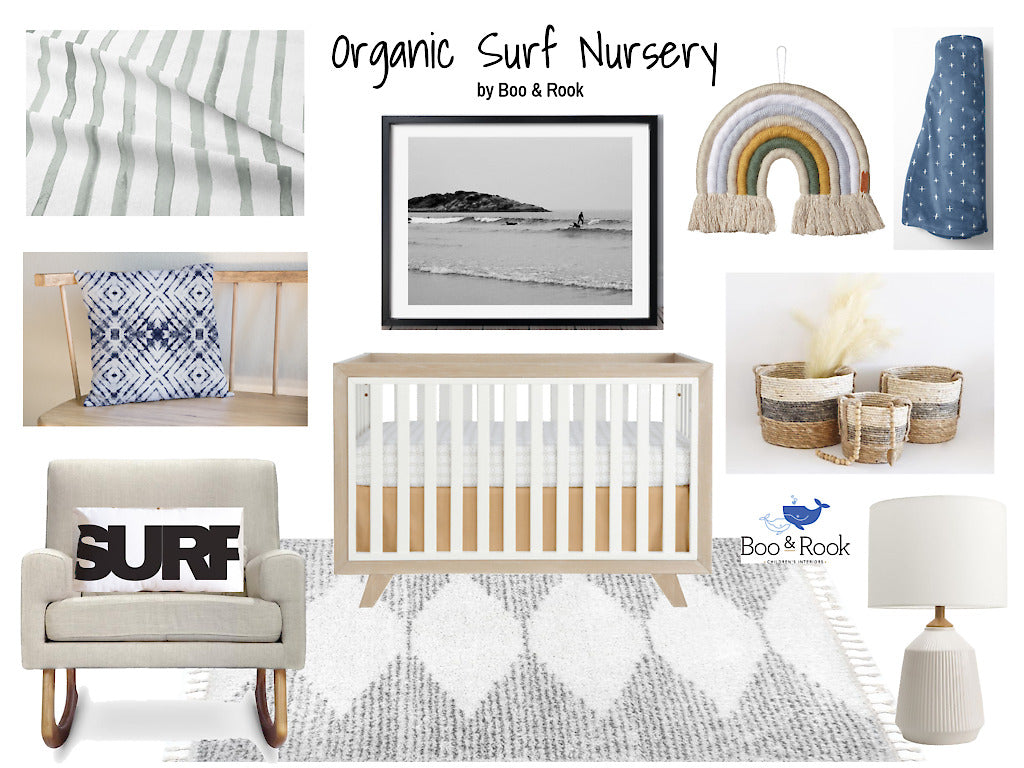 April 30, 2021
Hey hey!
I am so excited to start designing again and today we are coming at ya' with a surf inspired nursery.
crib sheet | A Day on the Waves Photograph | rainbow | blanket |  
shibori pillow | crib | baskets | rocker | surf pillow | rug | lamp
When designing around a theme, it's so easy to take it literally and plaster that theme everywhere.
(click here to read more on how to design a nursery around a theme)
We could have easily done that here by including surf boards and waves on bedding, pillows, artwork, etc. and it would have been fine. But it also would have been fairly typical. Instead, we focused on the experience of surfing and bringing that into the nursery by creating an organic, neutral and calming palette.
This look was created in 5 easy steps:
1. staying with a color palette of blues and greys which give you a light, calming, neutral and serene backdrop to build upon
2. using light to medium wood tones in the furniture that have a slight weathered look but have enough depth that they still add warmth to the nursery (don't be afraid to mix wood tones for added visual interest)
3. bringing in textures that are woven for that organic nature inspired touch. Baskets and wall hangings are perfect for this - also notice the texture on the light fixture!
4. also bringing in textures that are soft so you still get a cozy, safe and warm feeling for you and your baby
5. lastly, using artwork that features surfing but also includes landscape to help bring the outdoors in along with the feeling of being at the beach. The black and white helps reinforce the color palette verse going with a colored photograph.
If you want to add a little extra color into the nursery, add some greenery for a little extra life that will still be in keeping with the organic and natural vibe. Real or faux is completely up to you and your green thumb (or lack there of if you're like me). I hope you found some inspiration and a few tips from this!
with grace & gumption, 
Corinne